In golf, one of the biggest mistakes to make is to purchase expensive golf iron sets that are not appropriate for your swing and game, but other than your playing skills, there are certain factors to consider in choosing the right irons. Some of these key elements include the shape, size, material, flex, and even the feel of the clubs. Another serious factor is the price.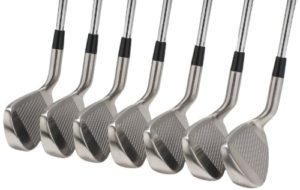 Types of Irons
As there are three types of iron, you need to determine which type is right for your game.
1.Player's Iron
aimed for golfers with the highest skill level and create the best response when hit properly.
2.Game-improvement Iron – for mid-level golfers
This iron is designed to generate better results including longer and straighter shots, in case you fail to contact the ball in the center of the club face.
3.Super Game-improvement Iron
This is suitable for high handicap players. It is even more forgiving on your off-center shots.
Quality of the Club Heads
This is one of the most important factors in choosing the right Golf iron sets. In general, high quality club heads are made of materials like brass, steel and titanium. If you want to hit the ball well, then do not choose wooden or plastic club heads. If you have the right club heads, it will provide you the best possible control over the direction and power of your shots.
Grip
This is the only part of the golf club that the player comes in contact with when hitting the ball. Therefore, you need to ensure that you have the right grip built in such a way that your hands will not slip even when they are slippery from rainwater or sweat.
Try Out Several Irons
Feel cannot be measured, but it is a crucial part of choosing the right golf irons for your game. The look of the club while addressing the ball as well as the feel of the club while swinging it must satisfy the senses.
Try golf iron sets with graphite shafts and steel shafts. Shafts made out of graphite are lighter and restrain vibration that are good options for those who have arthritis. You also need to make sure that the shafts of your irons have the right length and good quality. You cannot just walk into a golf shop and get any random golf set with a nice brand name.
Now, this does not mean you keep on purchasing iron until you get the right look and feel. You can actually just start practicing with borrowed irons.
Right Shaft Flex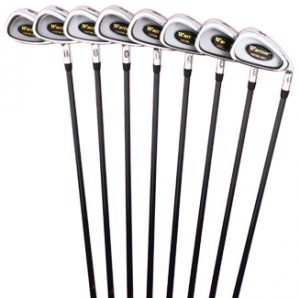 Shaft flex has something to do with the amount of bend in the golf club. Normally, shaft flexes have four types, which are Ladies, Senior, Regular, Stiff, and Extra Stiff. There are golf manufacturers that offer various different flexes for women. Generally, faster swing speeds require stiffer shaft flex. If you have a slow swing and try using a stiff shaft, it would feel like you are swinging a pole, likely leaving the shot right (if you are a right-handed golfer). On the other hand, if you use a flexible shaft and you swing fast, it will be difficult for you to control the direction of your shots because they can go right or left.
Custom-made Irons
Another option is that you can have your golf iron sets customized, so they would be exactly right for your height. Expert club fitters can match you and your golf clubs to a tee. Properly fitted clubs will make your game less frustrating because appropriately-fitted clubs produce more efficient swings. Moreover, if you have the right shaft, it can make the difference between landing your golf ball on the green or in a water hazard or sand trap.